There's so much more to office interior design than meets the eye. You have to consider the types of work that will be performed in that space, the people and their different working styles, work- and non-work related amenities, and so much more.
At Ambient Concept, we believe that the workplace is more than a bunch of tables and chairs. It's about the people who spend most of their day in that space; it's making them feel as good walking in, as they do walking out.
End-To-End Office Furniture And Workspace Planning Solutions
Ambient Concept, a subsidiary of AM Office, brings 23 years of office furnishing experience from its parent company into its professional services. We work with in-house or partner interior designers to plan and build workplaces based on each company's unique requirements. We also outfit offices with superior quality built-ins and furniture while managing the entire project to meet the organisation's budget and timeline.
Our products and services include:
Architectural interior works– Walls, flooring, ceiling, and built-in furniture
Furnishing – Seating, desks, and cubicle systems
Installations – Curtains, blinds, handrails, windows, and doors
Mechanical – Air conditioning system, hot & cold plumbing system, sanitary installation, fire protection system, medical gas and pneumatic system
Electrical – Electrical wiring & fitting, card access control, CCTV, PA system, nurse call system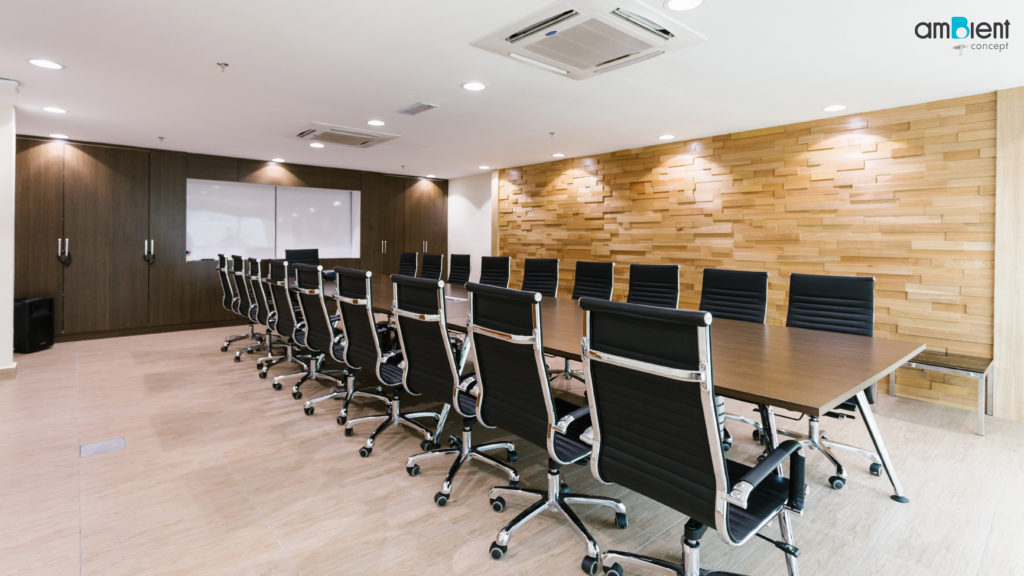 Top-Of-The-Line Furniture That Work For You
Placing a pillow to fill that gap between your back and the chair, not having enough drawers for your papers, and crowding around your colleague's desk for a quick discussion just don't cut it anymore.
Instead of making the furniture work, we make furniture that works for you. Using our years of experience, knowledge, and feedback from clients, we manufacture and import quality furniture that suits the needs of the modern worker. Ergonomic task chairs, space-efficient cluster tables, and panel systems that enable interaction and privacy – if you can think it, we have it.
Servicing Corporations, Interior Designers, Property Developers, And More
We work closely with interior designers, architects, and property developers for office furniture and interior design. We do this by recommending solutions for your client's or target market's needs, then provide you with desks, storage, and panel systems that match those needs best.
Our portfolio also includes organisations from the healthcare, education, public, and commercial sectors. Having serviced hospitals, universities, multinational corporations, and even the national zoo, we understand that each workplace is unique, and we treat them as so.
As a result, our consultants and partnered designers listen carefully to every client's budget, space, and work process expectations to come up with customised solutions. This includes layout planning and furniture curation that will ensure maximum workplace productivity and comfort. Check out our list of clients which include the likes of Gleneagles Hospital, Ramsay Sime Darby Health Care, and Malaysian Resources Corporation Berhad (MRCB).
Transforming Your Ideas Into Reality
Our tagline is more than a marketing phrase, it's actually what we do. When it comes to office furniture solutions and office interior design, all you have to do is tell us what you need, and we'll take it from there.
Here's how it works:
Step 1
If you're an interior designer or architect, tell us about your design and your client's needs. If you're planning your own office, tell us about your workplace requirements, budget, and timeline.
Step 2
We propose a design (if needed), furniture list, and price quotation.
Step 3
We measure your space and place an order on the necessary items including furniture.
Step 4
We manage the deliveries and installations.
Step 5
That's it, now you can enjoy your new space!
More Reasons To Love Ambient Concept
We pride ourselves on impeccable client and customer servicing, before and after the sale.
Consultation, layout planning, quotation proposal, and site measurement.
Free delivery within Klang Valley for orders above RM200.
Product warranties on most of our catalogue.
A professional support team that's happy to take your questions and feedback.
—
Interested in our products or services? Drop us a message here.