An effective office layout keeps employee morales high, enables productivity, and optimises workflow.
More than a matter of fitting a certain number of people into the same space, your choice of layout should depend on the type of work, workflow, aesthetics, amenities, communication, and even the company's branding.
If you're setting up an office, read on to learn about the different types of office layouts and their functions to see which one works best for your business.
What Is Office Ergonomics And Why Is It Important?
Ergonomics at the workplace is all about designing workstations and furniture that support the individual who uses those things.
Modern office design is so much more than just creating places to work, it's about enabling productive, quality work by providing the best work environment for employees.
Today's working styles have created unique health problems such as hunched postures from leaning into the work desk, shoulder and back aches from insufficient arm and lumbar support, and neck pains from incorrect desktop screen heights. These health problems affect employees' well beings and resulting morale, productivity, and efficiency.
Thoughtful ergonomic office design can improve all of these and create a company culture that's supportive, inviting, and engaging.
Furthermore, modern companies adopting practices like flexible seating, stand-up meetings, and bring-your-own device need to design offices that enable them. Arguably then, one of the most important features of a modern office is adjustable, ergonomic furniture.
1.) The Really Open Space
With the proliferation of startups along with their Gen-Y and Gen-Z employees, open plan offices are a popular choice. These offices are characterised by their lack of cubicles and partitions. Desks are arranged in rows or clusters in an open area.
Who it's for: Fast paced and flat hierarchy organisations like startups and tech companies.
Advantages: The lack of barriers between employees enable communication. This means that decisions get made faster, resulting in prompt action and increased work efficiency.
The open plan office is also more affordable, as there are no partitions or rooms to build. This way, natural lighting can stream through the entire office and fewer artificial lighting and air conditioners are needed.
Common design mistakes: Not having enough meeting rooms or private pods. Many Malaysian startup offices have vibrant open layouts which are noisy, distracting, and lack privacy . While open communications allow for efficient work, employees still need quiet and private booths and rooms to make calls and hold discussions.
Traditional offices with private rooms for every single employee are the antithesis of the open plan office. At such offices, every employee has their own room from which they work and meet clients.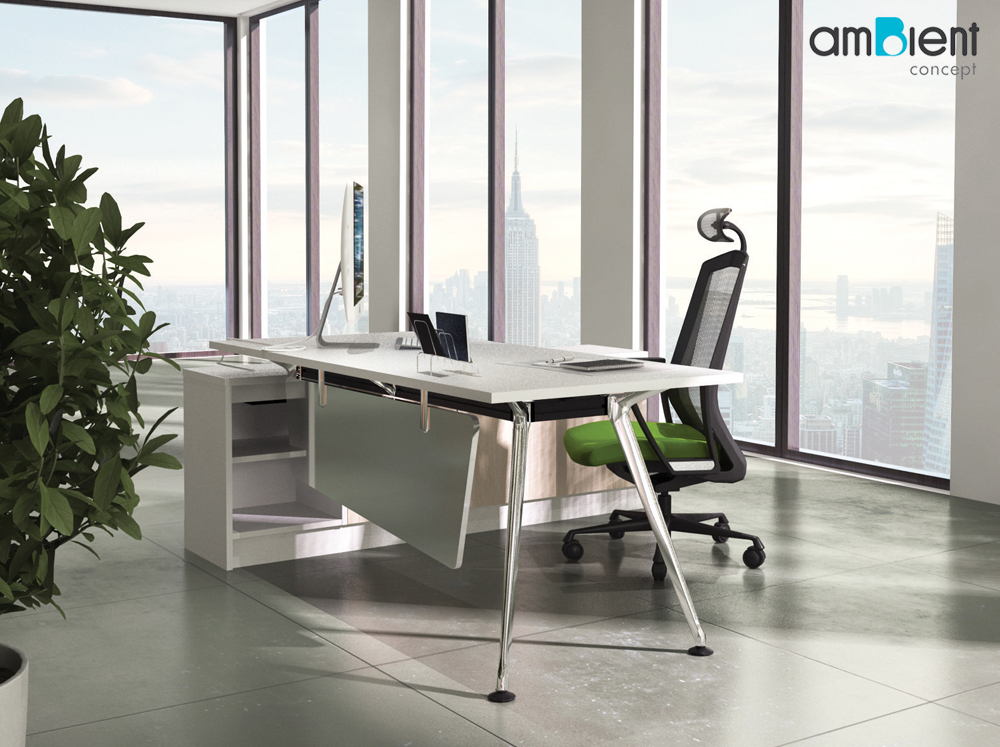 Who it's for: People who do confidential work or who have frequent one-on-one meetings with clients like legal firms and healthcare professionals.
Advantages: Employees have their own rooms which they can arrange, decorate, and furnish according to their professional and personal needs. Privacy, quietness, and focus are the main advantages of such workspaces.
Common design mistakes: Private rooms see employees working in isolation. As such, meeting rooms, pantries, and halls should be added to enable collaboration and interaction. Additionally, pantries and hallways should have inviting designs where people can hold casual conversations, have coffee breaks, and exchange ideas with colleagues or even clients.
3.) The Case For Cubicles
Another common office design are desks that are designated within cubicles. These can come in quads where cubicles are arranged in a two by two layout, or row design where cubicles are arranged horizontally across the room.
Who it's for: Big organisations with individuals or teams who require some privacy like banks, telemarketing companies, and auditing firms.
Advantages: On the privacy-collaboration spectrum, cubicles are a good middle ground. They enable quick and open communication while offering privacy and mitigating distraction for focused work, phone calls, and sensitive documents.
Common design mistakes: Avoid arbitrary seating arrangements. For example, a company might place all its operations teams on one floor and sales teams on another. While this makes sense in an organisation chart, it inhibits workflow. For example, client managers from the operations team need to work closely with the sales team, so it's best to arrange seating according to workflow. Fitting too many cubicles into a small space is another common design error. It results in narrow walkways, a noisy environment, and clutter.
With cubicles or not, the basis of the team-based office layout is grouping teams into clusters and designated zones in the office to ease communication and workflow.
Who it's for: Organisations with multiple teams that have very different roles, or teams that hold a lot of internal discussions. Examples: advertising agencies and corporate companies.
Advantages: Enables communications within teams while people with similar roles and work needs get to use the same space.
Common design mistakes: Neglecting the importance of having meeting rooms and private booths on the assumption that the people who need to work together already sit together. Dedicated spaces for grouping like meeting rooms and dining areas are important to foster communication and boost social interaction between employees.
Co-working spaces are third party office providers who offer a range of workspaces for individuals and organisations. These include individual desk rentals, office suites, and even whole office floors for larger companies.
Image credit: commonground.work
Who it's for: Freelancers, startups, small companies without office capital, and large companies who enjoy state-of-the-art facilities.
Advantages: The best facilities such as premium printers which are maintained by the co-working space providers, well-equipped rest areas, and a never-ending supply of refreshments. As co-working spaces cater to individuals, small groups, and even large companies, they usually have a wide range of workspaces for different working styles and functions. These include phone booths, small meeting rooms, event halls, office suites, and more.
Common design mistakes: Inadequate privacy and security measures. In a shared office space, privacy and security are paramount. This might mean installing lockers, locked storage spaces, and individual card access to different areas in the building.
Choosing the wrong office layout results in a loss of productivity, low employee morale, and a high turnover rate, all of which are costly to the company. That's why it's important to hire the workspace planning professionals at Ambient Concept.
We work with interior designers, architects, and corporate representatives to design customised offices that fit your needs. We also manage the project from start to finish, providing all your building, installation, and furnishing needs so you won't have to search for, hire, and coordinate with a dozen contractors at once.
Moreover, whatever your furnishing needs, we've got you. As a subsidiary of AM Office with 23 years of experience in the office furnishing industry, we outfit workspaces with self-manufactured or imported furniture of premium quality.
Contact us now!